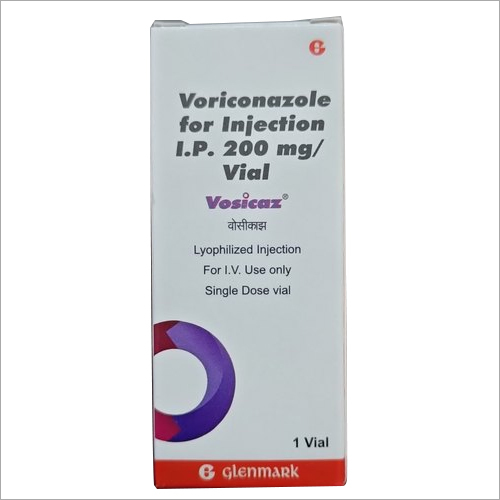 Product Description
Vosicaz 200mg Injection belongs to a group of medicines called antifungals. It works by stopping the growth of fungus and is used to treat a wide range of fungal infections. It kills fungi by destroying the fungal cell membrane.

Vosicaz 200mg Injection is administered under the supervision of a doctor or a nurse. Do not self-administered the injection. To get the most benefit, get the injection at evenly spaced times and continue taking it until your prescription is finished, even if your symptoms disappear after a few days. If you stop treatment too early, the infection may return and if you miss doses you can increase your risk of infections that are resistant to further treatment.

The most common side effects of this medicine include rash, vomiting, nausea, and headache. These are not usually serious, but you should call your doctor if you think you might have a severe allergic reaction. Signs of this include rash, swelling of the lips, throat, or face, swallowing or breathing problems, feeling dizzy or faint, and nausea. Get emergency help if this happens.

Do not take it if you are pregnant or could become pregnant unless your doctor has told you to. Talk to your doctor before taking it if you have ever had heart failure, kidney problems, or liver problems such as yellow skin (jaundice). This medicine may not be suitable for you. If your course of treatment is for more than a month, your doctor may want to check your liver by testing your blood. The medicine may make you dizzy or have blurred vision so do not drive or operate machines until it is safe.

Enter Buying Requirement Details
Other Products in 'CRITICAL CARE RANGE' category